Burning Man Tilt Shift-Timelapse
Burning Man Tilt Shift-Timelapse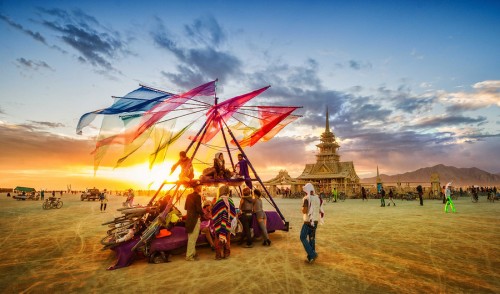 Uma breve contextualização pra quem não conhece este festival: fundado em 1986, Burning Man é um evento anual que acontece durante uma semana, no Deserto de Black Rock, Nevada, Estados Unidos. Mais de 50.000 pessoas, constroem uma cidade temporária neste deserto no meio do nada, sem água, eletricidade, e quase nenhuma forma de vida durante os outros 358 dias do ano, a fim de celebrar liberdade, autoexpressão, arte e resiliência (resistência ao estresse relacionada a processos de recuperação, e superação a essas condições adversas). Leia um pouco mais dos meus comentários aqui.
Vejam, abaixo, um incrível time lapse do Burning Man, criado por James Cole, Byron Mason & Jason Phipps:
Timelapse-icus Maximus 2012 "A Burning Man for Ants" Tilt-Shift Time-lapse by James Cole, Byron Mason & Jason Phipps from Cinematic Digital Media on Vimeo.
Uma das inúmeras formas de significar esta imersão vivencial:
"it alters your mind
it changes your entire perspective
it engages you in community fast
it forges radical self reliance
it requests radical self expression
it changes you
and aside from the showers and baths in default world….
its better out there"
Desfrutem de algumas da palestras que rolaram no TEDx Black Rock City The 2012.
Fonte: UptadeorDie