Hammock – "êxtase e epifania"
Hammock – "êxtase e epifania"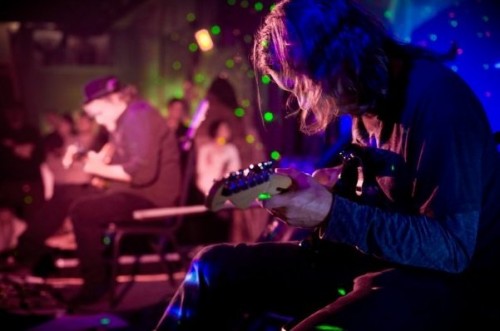 Departure Songs, quinto disco e o primeiro álbum duplo do Hammock, é mais um de seus trabalhos arrebatadores. Uma espécie de conexão intimista, que conduz o ouvinte pra um estado meditativo e pra vivências de um universo de luzes e sombras.
Uma penumbra lisérgica que produz um transbordamento de emoções, que dá pra sentir nessas quatro faixas disponibilizadas no bandcamp.
Eu já fiz minha declaração de amor pelo Hammock aqui, mas encontrei este texto de James Mason que apreende inteiramente a sonoridade da banda e de seu novo álbum. Pensei em traduzi-lo, contudo não me senti autorizada a significar, o que o autor é capaz de representar.
"About Departure Songs:
Hammock go massive as they meditate on grand themes of death and loss, their music ever larger, more expansive. Every song a mountaintop vista with a clear view to the horizon, unencumbered by clouds, in all directions. Departure Songs demands that it be played loudly so that the details in each track can breathe, whether it is the androgynous, falsetto vocals of Marc Byrd or the angelic voice of Christine Glass Byrd or just a little bit of guitar in the background, this record is nuanced in a most compelling fashion. The arrangements beg to be picked apart – soaring guitars, propulsive bass, and hypnotic strings. The vocals work wonderfully as an instrument, but when the words finally become understandable, they cause shivers.
Departure Songs is an album about being there and not being there. And how it feels to both be there and have someone else not be there. Presence and absence. Love and grief. Hammock's music has always been a balm for troubled hearts in troubled times – and here the troubled times are their own. This is intensely personal music, and we are lucky that Hammock will let us listen in.
Not as fragile as previous efforts, Departure Songs shows a more mature songwriting, more assured production, a fuller approach to crafting music. Hammock retains its signature approach to epic music-making, but this time out, herald their muse in all capital letters, with cinematic crescendos and an architect's ear for structure both within a song and as a sequence of songs. The quiet, more ambient tracks act as both underline and counterbalance to the bigger tracks.
Hammock's greatest success as musicians is to make music that is, at its heart, completely the saddest music ever made but expressed in a manner that is ecstatic. This is what makes Hammock special – ecstasy through exquisite sadness. Epiphany. – Words by James Mason

O vídeo de Tape Recorder, dirigido por David Altobelli é lindo. Veja abaixo:
E como sempre, meu amigo Jaime do Warehouse Songs and Stories vai me ensinando os caminhos.